What is the best goal for Football Clubs, Schools and Associations
Posted by RICHARD TINKER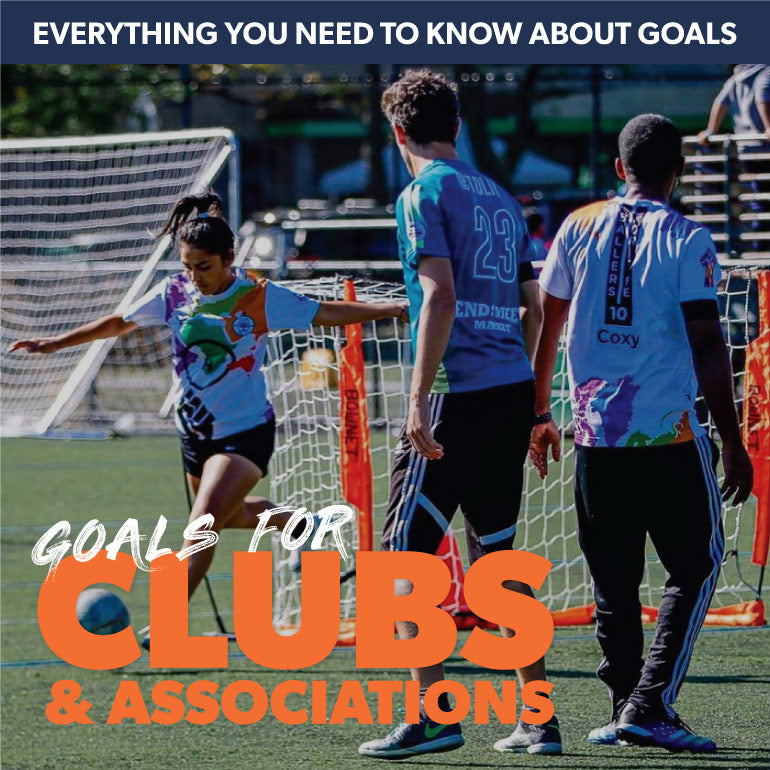 Portable Goals for Football clubs or professional development associations. Your guide to the right sports goal for your needs.
Key article points:
Professional goals - what to look for.
How big is a full size goal?
Alternatives to flex goals - Aluminium folding goals
Junior Soccer Club - Which Goal to use
Which is the right goal for juniors and kids sizes
Guarantee and local supply/service
A professional football club is going to need high-quality portable soccer goals that can be used multiple times a day, with hundreds of ball strikes hitting the net every week. Frame, net and fixings of the soccer goal are going to need to be robust and ready for all weather types.
Apart from being light enough to be easily moved, the portable soccer goal will need to be:
Strong for daily use
Reduce movement even from the most powerful of football strikes.
Able to be put up and down many times
Use parts that work over long periods without failing, rusting or breaking
Netting that is sun and weather resistant.
Thicker durable net and frame
Easy to use folding features
Dependable – backed up by guarantee, parts and service
Approved for correct age/game/size
To achieve this, a goal is going to have to use materials that are stronger, better engineered and guaranteed to work. A good example of this is the Bownet range of portable soccer goals. The original manufacturer of the BOW style of frame, the Bownet goal has the EAS absorption built into every goal to allow flex under high loads. This reduces the stress on the net and metal base by flexing along the fibreglass vertical poles.
How big is a full size soccer goal? What age do I use a full size goal?
If you are 11 years and older, then you will be using a Full Size Soccer Goal. This is an adult size goal and measured from inside edge to inside edge of goal posts/ground.
| | | | |
| --- | --- | --- | --- |
| Size | Age | Goal Size Metric | Goal size Imperial |
|  Full size goal | 11 and over | 2.44m High x 7.32m Wide | 8ft High x 24ft Wide |
For kids and junior soccer players, read down this article for goal sizes and different age groups.
Alternative to a flex goal? Yes, the Aluminium folding goal. Tough, easy to use and great for soccer clubs and schools.
The second option is the aluminium folding goal. These are a stronger sold frame goal that folds and sets into position. They are structurally stronger along the perimeter of the goal and perfect for smaller goal sizes. They are robust and easy to put up fast to be ready. Great for the Small Sided Game, you can find aluminium folding goals in 2 sizes here.
Junior Soccer Club - Which Goal is needed and what is the right size goal for the age group?
For young players, clubs can use the Football Australia approved Tear Drop Goal (also known as a half-moon goal) and pop-up style goal. Usually used for the youngest of age groups, the benefit is the fast and easy pop up with lightweight construction. The FA Approved Tear Drop goal is regularly used in Small Sided Games and a fun way to get juniors started. They are considerably cheaper than the stronger Bownet and aluminium style portable goals.
Can I use other goals for juniors? Under 10s, under 7s and junior soccer.
Yes,there are a lot of goals that can be used depending on your needs. The FA Approved Tear Drop goal is our go-to goal for juniors as it is cheap, easy to use and approved by Football Australia. But if you need something a bit more heavy duty, then have a look at the following.
Aluminium Folding Goal is a fantastic goal that is easy to set up, robust and easily folds away after training. It fits junior goal standards and like all of our goals, falls within government safety standards.
SUMMIT Bownet Goal Football Australia 2m x 1m is another Football Australia approved goal. Tough, flexible and the cheapest entry into bownet goals. The silver FA range of bownet are made for clubs, players and schools when you want the best goal in the world but at the best price. 
SUMMIT Bownet Goal Football Australia 3m x 2m is the goal for Juniors 8 to 9 years of age and indoor (Futsal) sides. Football Australia approved portable goal, this is the cheapest of the Bownet futsal range. Ready to be used by clubs, schools and players you are guaranteed for 1 year and comes with after sales service and parts available.
Bownet Soccer Goal 2m x 5m is the goal to choose if you are serious about your junior footballers. Bownet are the worlds best portable goals, and this is the right goal if you are needing goals for 10 to 11 years. They don't come any better.
What size goal do you need for kids? Here is your guide to goals for each age group
There are specific sizes to follow for junior players. These goals require specific rules, and before you purchase, please read: Goal safety – Government rules. Protecting kids, players, clubs and schools.
The main focus for small sided games is making sure it is fun and safe. Portable goals are the perfect fit for junior games as they can be put and down quickly, easy to move and safe (bownet, FA teardrop, pop-up). Below are the approved sizes and info as approved by Football Australia.
   


Junior/Miniroos

   
   


Miniroos Under 10 & 11

   
   


2 x 5m

   
   


6.56 x 16.4ft

   
   


   
   


Miniroos Under 8 & 9

   
   


2 x 3m

   
   


6.56 x 9.84ft

   
   


Miniroos Under 6 & 7

   
   


1 x 2m

   
   


3.28 x 6.56ft

   
   


Pop up goal preferred

   
If you are looking for junior/Miniroos guidelines, you can find the full details on Football Australia's website:
https://www.playfootball.com.au/miniroos/resources
Guaranteed with after sales service and parts Australia wide
The Bownet soccer goal is guaranteed for 1 year for clubs, so they know it is built to work. There is also spares and service department in Australia that can be called on to help. We also supply videos of all the nets and how to use them. Each part has been designed to professional standards over years of development. As the original creator of the bow flex net, Bownet goals have tested and redesigned the goals to be the pinnacle of portable goal technology.
Collection 2019
Sale 70% Off
Title for image