Q&A with SUMMIT netball ambassador Maddy Turner
Posted by RICHARD TINKER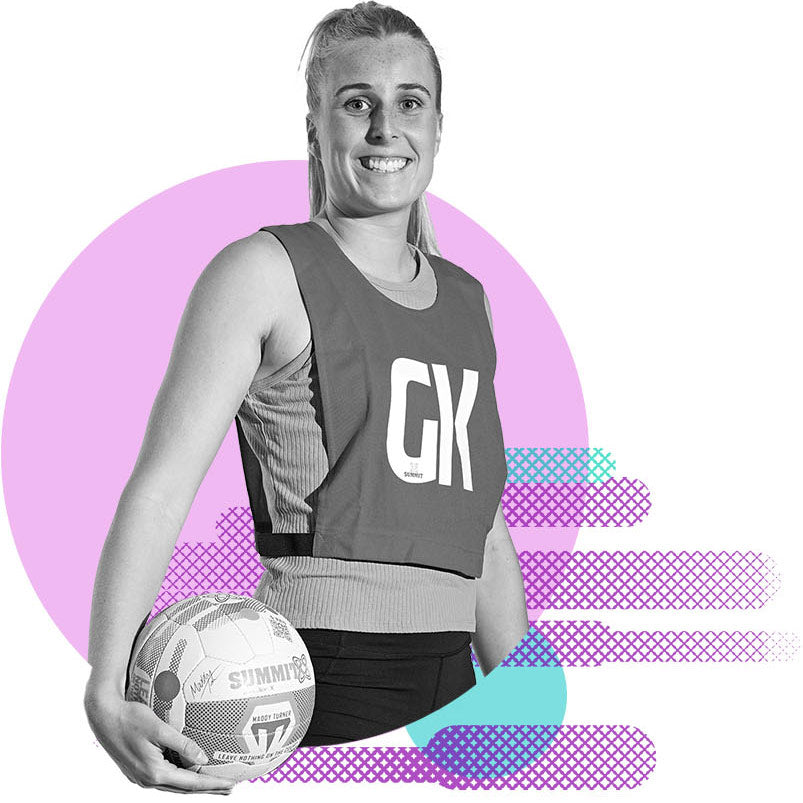 Maddy is a
 

Swifts Super Netball star,

 

Australian Diamonds

 

regular, 19/21 premiership player and 21 grand final MVP. She's also a proud SUMMIT Sport Brand Ambassador who's designed a collection of high performance netballs with unique designs. Here Maddy answers some of our most burning questions. 

How did you get into netball?

My best friend was going to start playing so I followed suit. I also followed her to dance lessons - this did not last long!

Who were your netball inspirations growing up?

I used to consider myself quite the goalie and loved watching Nat Medhurst play. I also loved Julie Corletto, so it was pretty special to have the opportunity to fill her shoes in the GD bib at NSW Swifts. 
What does a typical day of netball training look like for you?
Training varies whether we're in season, pre-season or off season. In season is definitely my favourite - it means games! A typical day when in the lead up to the game will include video analysis, a combination of who we just played and the team we're coming up against, court work and a gym session. Plus recovery and physio that fits in around all of that. 
Watch as Maddy takes us through a fast-paced training drill which focuses on agility, speed and co-ordination. 
What do you look for in a match ball?
A match ball needs to have good grip, helps to get more intercepts in my opinion! I also love a ball that doesn't need to be constantly pumped up and is always match ready. 
Tell us about the process of designing the netballs
Not being from a design background I left the ground work to the professionals. Once the designs were in the works, I had a fun time playing around with colours with my sister who's a wizz on photoshop. I wanted my netballs to represent the club that means so much to me, with the blue and red for Swifts. I also wanted to have some fun with some fun pops of colours. The MT logo is also a feature which I love, as it also emulates a defender.
What do you love about the SUMMIT Maddy Turner netballs?
What's not to love!? Obviously, I love having my name on a ball, I've been playing netball for nearly 20 years and if you told that little girl in the pleated skirt she'd be designing a netball I don't think she would've believed you. All jokes aside a few things stand out, one being that the training balls are made from recycled rubber, I think SUMMIT has made a huge step in developing a ball that still maintains it's quality but is made from recycled products at the same time. 
What is your favourite netball career moment so far?
It's hard to go past premierships! Having won 2 with the NSW Swifts (and also having lost one) I can tell you there's no feeling like holding that trophy at the end, standing along some of your best mates and knowing what it took to get there. It's a sense of pride, accomplishment and relief all mushed together!
Do you have any advice for young netballers aspiring to make it to the top level?
Have fun! Listen to your coaches and keep adding to your tool belt. Be a student of the game and learn from watching other people.
See the full range of Maddy Turner Netballs here at SUMMIT Sport.
Listen to Maddy chat about her top range of netballs - the Evolution X and Advance X netballs.
Collection 2019
Sale 70% Off
Title for image