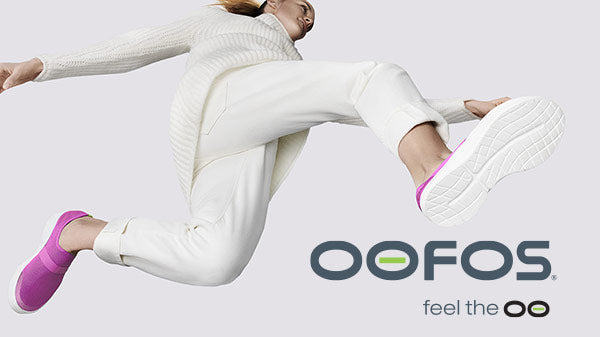 RECOVERY STARTS WITH OOFOS FOOTWEAR
OOFOS shoes are engineered to help your feet recover faster from a long day or gruelling run than other footwear. With a range including recovery shoes, thongs, slides and clogs, slip into a pair and you'll immediately "Feel the OO".
Users say OOFOS shoes and thongs are the best footwear for Plantar Fasciitis
Plantar fasciitis is a painful condition affecting the foot's arch area. It causes pain on the bottom of the heel and toes. If you suffer from plantar fasciatis, then you need to wear supportive footwear. Find out why so many women and men rave about OOFOS and how they help ease pain associated with plantar fasciitis!
Made for athletes, supporting sore feet and joints of everyone
OOFOS was originally designed for elite athletes after running or intense exercise. The technology that has gone into developing OOFOS thongs and footwear now helps everyone. Recovering from sore, tired, aching feet, ankles and joints is just a step away. OOFOS shoes can help provide support for the feet while also allowing them to move freely making them comfortable and great to wear.

Shop from the source. SUMMIT Sport is the distributor of OOFOS Footwear in Australia.
Find out why OOFOS are loved by so many people.