PORTABLE GOALS & TARGETS: Two Pillar
Posted by RICHARD TINKER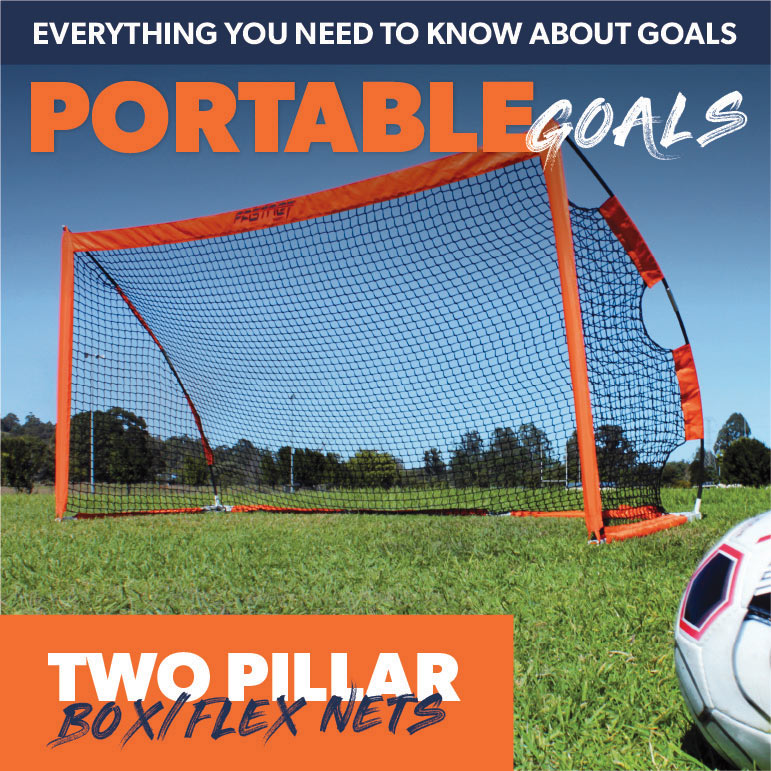 Portable Soccer Goals: Two Pole Flex Goals
These are the bridge between the pop-up goals and the Four Pillar goals like Bownet. These goals use two upright poles of fiberglass instead of the four found on Bownet. The result is a goal that has a rectangular goal face, but with a tapered back. They come in a range of styles, but the most common is this basic style - Fastnet.
Key article points:
What are the key things to look for in a cheap soccer goal?

Why are these NOT a pro soccer goal?

Who are these goals made for?
When considering the two pole/fastnet style of goal, understand that this is not usually a professional style of goal. The metal frame and fiberglass are usually thinner, and the construction simpler. This reduces cost, makes them lighter to move and great for backyards, where they would be perfect for younger players wanting to train at home. They won't have the strength or durability of Bownet, but they are not going to be used as much or as hard either. The cost reflects this and is considerably cheaper than the more professional Bownet style goal.
Simple way to get a box shape soccer goal
Putting up is easy, but not as simple as the pop-up or tear drop goals as there is some putting together of parts. It still folds down, but you will need to remove the poles to allow it to do so. Having a metal frame and poles allow these goals to come in larger sizes than pop-up goals, but we don't recommend anything much more than 2.5 meters (8ft) wide.
There are some two-pole soccer goals labelled as professional goals available. This is a great way to cheapen the product, but we do not recommend this type of goal to clubs as three are question marks on strength and longevity. If you want a professional portable goal, it is best to look at Bownet or the Aluminium goal.
Be aware: choosing the wrong type of goal
If you are purchasing a portable soccer goal like this, be aware that most brands will not support you with after sales service or parts. These goals are usually a recreational item, and don't usually come with extra support.
The fastnet range we produce is a perfect goal for young players and people wanting a recreational goal for backyards or parks. The goals are easy to use, transport and the perfect entry into home football training. What's best is that you get a SUMMIT guarantee when purchasing any of our goals.
Fastnet Soccer goals:
Alternative soccer goal options:
Collection 2019
Sale 70% Off
Title for image