The Winners of the Football Design Competition Revealed!
Posted by SUMMIT TEAM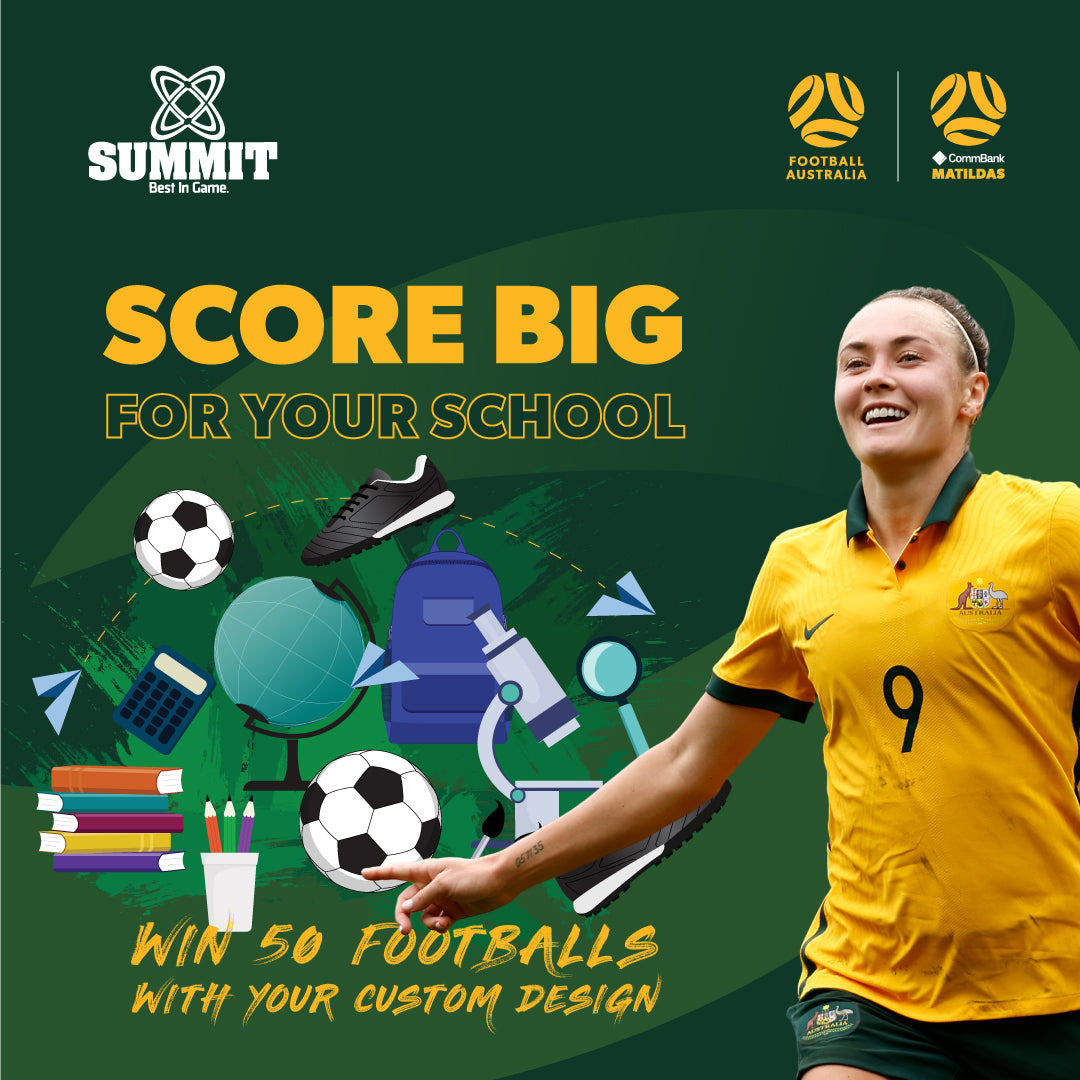 Football Australia and SUMMIT Sport are excited to unveil the results of the "Design a Football" competition. The response has been truly overwhelming, with a whopping 3890 entries dazzling us from every corner of the country. Your creativity knows no bounds, and we're absolutely blown away!
The journey to crown our winners was no easy feat – the designs poured in with imagination and innovation. Each entry was brilliant in its own right, radiating the spirit of Australian Football and the CommBank Matildas.
While we wish we could grant each and every one of you a prize, alas, the time has come to honour our top contenders!
Let's get right to it, shall we? From 3rd to 1st we have:
3rd Place: Riley W - 12 Years Old
St Leo the Great Primary School
From the playground of St Leo the Great Primary School in Altona North, Victoria, this dazzling creation caught our eye! Congrats, Riley W, for securing 3rd place with your phenomenal artwork. Your design has won two SUMMIT Football Australia Teardrop Goals for your school. Cheers to your incredible design!
Riley's inspiration behind the design
My inspiration for this design was indigenous paintings, prints and pictures. I believe that Our first nations, Aboriginal, and Torres Strait Islander people are such an inspiration for the way we live in Australia today because their culture is so diverse and beautiful. By creating this design I tried to bring through my true passion for Aboriginal art and culture, by using my own patterns, lines and prints. I wanted to both showcase the Matildas team, but also our proud history and culture. I choose different shades of green, gold and yellow because these are the colors that the Matildas and our Country represent, it's pretty ironic because my favourite colours are actually green and yellow which made my decision even more clear to choose those iconic colors. 
2nd Place: Skye L - 11 Years Old
St Michael's Catholic Primary School
To Sydney's very own Skye L, you've blown us away with your brilliance! Your design scored 2nd place, and we can't help but admire your talent. You have won 10 CommBank Matildas Footballs and a SUMMIT Ball Bag for your school - St Michael's Catholic Primary School in Belfield, NSW. Keep those creative designs flowing!
Skye's inspiration behind the design
Skye wanted to use colours that were earthy to symbolise the Australian soil and ground. Skye says "The back of the ball is two hands representing the girls playing football and demonstrating teamwork and the rest is about Australian animals and our history".
1st Place: Summer K - 11 Years Old
Woongarra State School
Hold onto your hats because the grand champion is here! A thunderous applause for Summer K from Woongarra State School – your ingenious creation has secured you the top spot! You've won the prize package of: 50 custom-made footballs featuring your awe-inspiring design and a coveted signed World Cup CommBank Matildas Jersey. Your football fever and creative prowess have truly shone through!
Summer's inspiration behind the design
My inspiration for my Matilda's ball design was inspired by the cultures and traditions we share here in Australia, using both symbols and colours to represent the people who live on our sacred land. 
5 specific colour choices were made in the design process of the Matilda's ball. Yellow, green, dark blue, white and red. All of these colours represent Australia with a significance to the beautiful blue oceans, vast green landscapes, golden yellow sands, white wash waves, with an incorporation of the dark blue, red and white Australian flag to signify the importance of unity for all Australians. The use of indigenous dot artwork has also been used to represent the Australian people as a group. The U shape has also been chosen to represent a person when sitting cross legged on the land and joined together in a circle to represent a place of meeting, just as we would meet together at a football game. The travel of swirls and dots depict the journey of people from all over Australia and across the globe. Green lines linking up between the circles of community which unite us all as one. Furthermore, the Australian symbol of the kangaroo has been used to represent the tracks as it jumps and bounds forward, leaving a lasting foot print impression for the world to see how amazing our country and Matilda's Football team really is. 
Congratulations to everyone that has participated in the

Football Australia "Design A Football Competition" by SUMMIT Sport!

 
The designs and effort everyone put in has been simply incredible. We have some talented football fans out there, and hope one day they can be playing or designing for Australia! 
Here are a small selection of designs we received, all of which we love.
See how the CommBank Matildas and FIFA Women's World Cup are impacting schools both in and outside the classroom around the country.
Football Australia developing our next generation of football stars and World Cup players. Some of our amazing entrants from Dromana Primary School were even filmed while drawing their amazing designs!
Collection 2019
Sale 70% Off
Title for image