PORTABLE GOALS & TARGETS: Four Pillar
Posted by RICHARD TINKER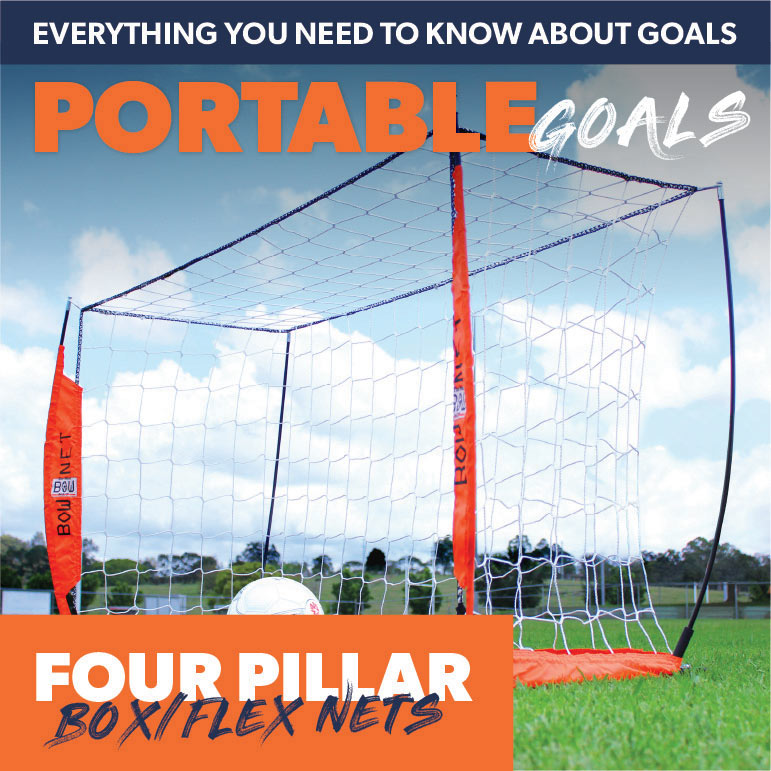 Four Pillar Bow/Flexing Box Goals: The Go-To for Professionals and serious footballers.
Considered the premium goal and the go-to for professionals. Four Pillar portable goals have a lot of the advantages of fixed goals, without any of the drawbacks. These portable goals are usually robust, light, and comes in a range of sizes for clubs and players.  
Key article points:
Right goal for the job. Make sure you are looking for the goal you need.
Safety is a key factor when choosing goals. There are key points to look for.
Pre-attached netting. What is this and why should a pro goal use it.
Quality parts and fixtures. Making the right purchase isn't as simple as price.
Guaranteed? If it's not, don't buy it.
Spare parts available? Why buy if it wasn't backed by parts?
Recommended goals. Looking for the best portable goals?
Box goal? Yes, it's a four sided box goal.
These goals are easy to recognise. Shaped like a professional box goal, they are the preferred style for clubs and players. The flex or bownet goal comes with a folding metal base frame that holds four fiberglass poles which in-turn fixes the net into place. It is a simple but effective way of creating a box style goal that is easy to move, safe and strong.
Understand that not all goals are made equal
The metal base should come with folding corners with clips to hold them in place. Make sure it is using safety buttons, as we have seen goals that can trap fingers! Larger goals will have sliding inserts to extend the size of the frame, allowing a smaller pack down. These inserts will also have button-clips to click into place. Each goal will have mounts for the fibreglass poles, and on the bownet goals, the net is wrapped around the frame using nylon edges. On some flex goals, Velcro is used to hold the net. This is not as strong when used with pros, clubs, training or matches. Make sure you check the quality of the metal, paint and use of quality components. Cheap goals will rust, bend or break a lot quicker. Something you will need to factor when purchasing your goal.
Fiberglass poles should be easily inserted into the base via the mounting holes. Good quality goals will have plastic inserts inside the mounts to create an interface between the fiberglass and the metal frame. Cheaper goals will be missing these. The fiberglass poles can come in single or double height variants (2 poles per corner). They are also made to specific goal sizes, where the thickness and length can vary. It is important that the correct pole's used, as there is a lot of stress on them when a ball hits. If you ever need new poles, always best to talk with us first before purchasing. If you are considering a professional flexing/bownet, you need to be confident in the quality. Not all fiberglass is the same, and when regularly hit, they can fracture if not made well. Remember, these goals are under tension, and if they split, they can break quickly.
Parts and fixtures can be a deal breaker if not right
Small details make the difference when choosing the quality of your portable goal. A good example are non-marking rubber feet, safety clips on nets, quality of netting and materials. Although difficult to see when shopping online, a good manufacturer should be able to inform, give support and guarantee the product.  You can talk to us here at SUMMIT for any questions you have on goals.
Backed up by local business?
Getting what you paid for is always a factor when considering your goal. It all depends on your needs and requirements. Yes, at SUMMIT we do sell a range of price points for all levels of players. But the quality is still built into the goals. An example is our range of Fastnet portable goals. Fastnet goals offer players a quality portable goal, guarantee at a great price. But you should not compare these goals to bownet goals. Bownet goals are for players, clubs and schools looking for a tool that works all day, every day and without fail.
All good goal suppliers should have parts available. Goals are not indestructible, and over time may need parts. To make your goals last longer and work better, they should have a catalogue of parts available. Any good supplier should be willing to help you with parts and accessories.
The goal should have a nationwide guarantee and people available to help you with your needs. From day 1, you should feel safe with your purchase, knowing you have support and parts available.
Parts and service to make your product last longer
As Australia's premier supplier of goals, SUMMIT Sport holds a large supply of parts and accessories. With offices in Brisbane & Sydney, reps across Australia, SUMMIT can support customers nationwide. 
Recommended professional portable goals:
Juniors
Training
Match/Full size goals
Collection 2019
Sale 70% Off
Title for image